Last month I bought two graphic novels about giants. It was a complete coincidence, in fact I fully realised they are both about giants only yesterday. Actually, I do not normally empathize with giants, but this time it happened to a degree that I completely forgot they were giants.
You know Tom Gauld's Goliath is a precious little volume the moment you have it in your hands, Drawn and Quarterly cover covered in cream fabric, and the shop assistant provides you with a transparent plastic wrapping to protect it. Then you read it on a train, and you get to know so much about Goliath in such a scarce number of pages, and of course you know what's going to happen to him and you feel the backcover under you fingers already (covered in cream fabric), and it affects you so much you start using the second person for protection.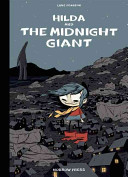 As for Luke Pearson's Hilda and the Midnight Giant, I was so worried about the elves being tiny and invisible in a complicated way that I completely forgot about the midnight giant being huge and lost in his romantic old world, so it took me completely by surprise when he stepped on Hilda's house without even noticing, and so it took Hilda of course. The next installment of the Hilda saga is forthcoming, thanks to remarkable Nobrow (shopping in their Shoreditch place is always a delight).
I call this good writing and good drawing, and good August shopping.